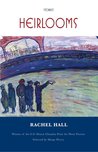 Heirlooms: Stories by Rachel Hall
My rating: 5 of 5 stars
Disclaimer: I've known Rachel Hall since we were at Knox College together, so these stories would have been a joy to read no matter what, just for her voice and wry humor and the memories they evoke. Though that friendship is what prompted me to buy and read Heirlooms, I can sincerely say this is a great book, and one I would highly recommend to anyone, especially if you're interested in World War II (especially the Holocaust, the resistance, and collaboration in France) and how it is remembered (or misremembered). Issues of immigration, race, and discrimination in the U.S. are also folded into the stories as time progresses. It is no wonder that Marge Piercy selected Heirlooms for the C. S. Sharar Chandra Prize. These stories are tightly crafted with economical language and image that nonetheless pack an enormous emotional punch. They are deeply philosophical without being ponderous. They explore the past and our tempestuous relationship with it, clouded with guilt, understandable revisionism, and attempts at retrieval of the stories that have been lost. Individually, each story is poignant. When taken together as a collection, the stories speak to one another and build deeper themes that will reward multiple readings. Characters appear and reappear in new contexts, giving the reader multiple perspectives on their stories as we follow the main characters through four generations.